Theatre for Social Justice Workshop -- POSTPONED DUE TO COVID-19
Thank you to all who have registered for this class–we will let you know when it can be re-scheduled. Stay safe & healthy – XOXO.
How expansive of a role can THEATRE play in the progressive world and the problems we face as a society today? Can it be utilized by individuals and viewed by society beyond 1) a form of expression, 2) a type of entertainment for the masses, and 3) "just a hobby?"
This workshop aims to engage young minds in utilizing theatre as a vital tool in creating space for dialogue about the problems that plague our communities, and ultimately sparking actions that support social justice.
Through design thinking, applied theatre, and improvised theatre techniques, students in this master class will collaborate on identifying a unified cause for the entire class to explore. Each artist will be given the space, tools, and support to create their own piece that shares a unique perspective about the chosen cause, perhaps calling their chosen audience to action and ultimately paving a path toward change and empathy in the community.
When: TBD –
Who: Open to actors, writers, and creative minds ages 13+
Cost: FREE but donations are greatly appreciated!
What to Bring: A journal and pen, and clothes you can freely move in.
Meet Your Instructor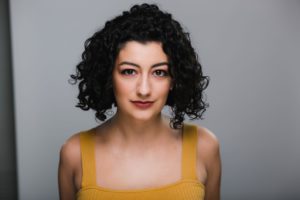 Megan Odell was originally born and raised in Sacramento, CA, and grew up as a classically trained dancer before discovering- and switching over to pursuing- musical theatre in high school. After graduating with a BA in Theatre and Minors in Education and Vocal Performance from Denison University (Granville, OH) last May, she's now living and working in Atlanta as an Acting Apprentice with Serenbe Playhouse. Outside of performing, Megan has 8+ years of professional teaching experience within the arts and more recently in traditional classroom settings as well, which she hopes to return to this year!
Before coming to Serenbe, Megan has performed and trained with some of the top companies across the US including Stella Adler Conservatory of Acting (NYC), Dad's Garage Improv Theatre (Atlanta), CATCO Theatre (Columbus, OH), B Street Theatre Company (Sacramento), California Music Circus (Sacramento), Sacramento Theatre Company, and Sacramento Ballet Company. She is also a proud alumni member of Burpee's Seedy Theatrical Company, the longest running collegiate improv team in the nation (they're also recognized for another alum, Steve Carell!)
Megan is passionate about expanding access to the arts for all communities and identities, as well as reforming the current education system to include a more arts-based approach to teaching. She is a proud feminist, an ally to all underrepresented individuals, and an advocate for underserved communities. She believes through peer mentorship, building one another up, and creating space for dialogue, incredible changes can happen within a community.
Musical Theatre Dance Workshop - POSTPONED DUE TO COVID-19
Thank you to all who have registered for this class–we will let you know when it can be re-scheduled. Stay safe & healthy – XOXO.
Join us for a FREE Musical Theatre Dance Workshop in the style of Fosse/Verdon on April 25th, 2020! The fabulous Eileen Edwards will teach choreography from Sweet Charity and then offer a Q & A session about her experience in the industry as a female. You don't want to miss it! Space is limited to 20 participants so register today!
When: April 25, 2020 from 1:30-3
Where: Divine Dance Studio
1400 South Marietta Pkwy SE Ste 202, Marietta, GA 30067
Who: Musical Theatre Lovers Ages 13+
Cost: FREE but donations are greatly appreciated!
You can Sign Up HERE!
Meet Your Instructor
Eileen Edwards has been teaching dance for over twenty-five years in the public school system, private studios, and regional theaters. She is currently one of two full-time dance teachers at the Cobb County Center for Excellence in the Performing Arts at Pebblebrook High School in Mableton, GA. Ms. Edwards CCCEPA classes focus on jazz technique – specializing in classic jazz and musical theater styles, modern dance, dance history, and composition. Her choreography is featured in the annual dance concerts, Black History Month program, and has been selected multiple times to be performed at the American High School Dance Festival.
Before joining the faculty at CCCEPA in 2012, Ms. Edwards taught at North Springs High School for ten years in the performing arts magnet department. While at North Springs she choreographed the annual dance concerts, musicals, and productions for theater competitions. While at North Springs her choreography was performed at the Georgia Theater Conference, Southeastern Theater Conference, and the Edinburgh Fringe Festival in Edinburgh, Scotland. Her love for musical theater was amplified by co-directing many of the musicals at North Springs as well as the Marcus Jewish Community Center in Dunwoody where she served as resident choreographer. Her musical theater choreography credits include Guys and Dolls, South Pacific, Rent, Spring Awakening, West Side Story, Legally Blonde, 42nd Street, Chicago, Urinetown, Bat Boy, Fiddler on the Roof, The Producers, and Crazy for You.
She is excited to be a part of the inaugural year of Dame Productions and looks forward to teaching musical theater dance for this new exciting organization!